Buy Forza Horizon 5 Rare Cars!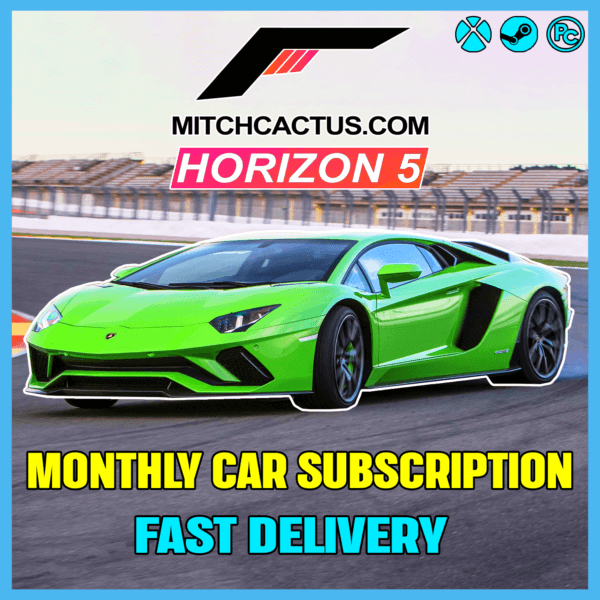 From:
USD $

14.99
/ month
Get ready to rev your engines and hit the open road in style with MitchCactus' Forza Horizon 5 Rare Car Packs!
Our modded car packs are the ultimate upgrade for any FH5 player looking to experience the depth of this incredible game. With a wide range of exclusive car models, our packs offer something for everyone. Whether you're a speed demon, an off-road enthusiast, or just love to show off your ride, we've got you covered.MitchCactus' Forza Horizon 5 Car packs for Xbox, Steam, and PC are the perfect way to stand out from the crowd and make a statement on the streets. With our packages, you'll be able to customize your ride to fit your unique style and leave your competition in the dust.
Don't settle for the same old vehicles everyone else is driving, step up your game with MitchCactus' Mod Car Packs for Forza Horizon 5. Order yours today and start dominating the road! Check out our offers today!
Choose The Right Forza Horizon 5 Modded Car Pack for you
The flexibility of choice has always been a hallmark of our business at MitchCactus. Whether you're a collector searching for rare and unique cars or a hardcore FH5 fan who finds satisfaction in obtaining the latest and greatest, we have a Forza Horizon 5 Car Pack for you.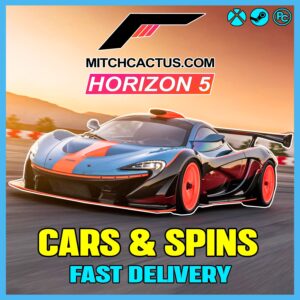 From $14.99
Our Rare Cars and Spin option for Forza Horizon 5 car packs is perfect for the collector in you, offering a chance to unlock some of the most exclusive and unique cars in the game. With this pack, you'll have access to limited-edition models that will set you apart. We'll just add this Forza Horizon 5 Modded Car Pack to your existing account, and you can enjoy it right away!
We can make it possible for you to drive exotic vehicles like:
Lamborghini Aventador SVJ

BMW M4 Competition

Ferrari SF90 Stradale

Lambo Sesto Elemento FE

Mclaren 765LT

And many others!

When it comes to getting the most out of your Mod Car Packs for Forza Horizon 5, you're the boss, and you can get exactly what you want. Just specify your desired cars on the checkout page, or simply let us know via email after purchase, and we'll take care of the rest.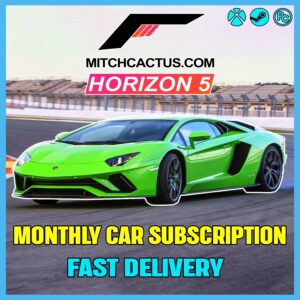 $14.99/month
For the elite FH5 player, our monthly recurring Mod Car Pack for Forza Horizon 5 is a must-have. This pack will give you access to the latest and greatest cars on the market to keep you at the top of the hill.
If you opt for this service, you'll receive all the new cars to an account of your choice as each monthly game update comes out! This means you'll be able to get your hands on the freshest models before anyone else. With this affordable monthly Forza Horizon 5 Modded Car Pack, you'll never run out of new cars to drive or modify!
Why Choose MitchCactus for Your Forza Horizon 5 Car Packs
When it comes to Mod Car Packs for Forza Horizon 5, you have a lot of options. But why settle for just any provider when you can choose the best? MitchCactus is dedicated to providing you with the highest quality and most innovative mods on the market. Whether you need a Forza Horizon 5 Mod Car Pack for Xbox, Steam, or PC, we have what you need! Furthermore, here are more reasons our customers love us:
Fast Delivery
As soon as your purchase is complete, we'll reach out to you to apply your new Forza Horizon 5 Modded Car Pack. Minimal waiting times, no delays — just pure gaming enjoyment. Additionally, with our fast delivery, you can start customizing your garage and dominating the open road in no time.
Unbeatable Prices
We at MitchCactus are committed to offering the most irresistible prices on the market. We believe everyone should have access to the best and most unique cars without breaking the bank. Not to mention, with our low prices, you can upgrade your garage often and enjoy more of the game. Don't fall victim to overpriced Forza Horizon 5 Car Packs — choose MitchCactus and get the best value for your money.
Ban Warranty
At MitchCactus, we stand behind the quality of our Mod Car Packs for Forza Horizon 5. The use of modded content can come with a risk of account bans, but it's frankly a rare occurrence. Still, we're here to offer a ban warranty for our customers. If your account does get banned while using one of our mod packs, we'll provide you with a new account, so you can continue to enjoy the game without interruption.
100% Safe
Safety is always a top priority with online transactions. That's why we ensure every transaction you make with us is 100% secure. We use state-of-the-art encryption technology to protect your personal and financial information, so you can rest assured that your data is never compromised.
Easy Refund Policy
We understand that sometimes things don't go as planned, and you may need to request a refund. If, for any reason, we were unable to fulfil your order, just get in touch with our support team, and we'll gladly sort it out for you.
Reputable Vendor
When it comes to online shopping, reputation is everything. And we're proud to say that we're a trusted vendor with a 4.9 average rating on TrustPilot across 5 thousand verified reviews. Our customers trust us to provide high-quality Forza Horizon car packs for Xbox, Steam, and PC. Not to mention, even then, we're constantly working to exceed your expectations.
Grab a Forza Horizon 5 Car Pack Today!
Tired of driving the same old cars in Forza Horizon 5? Look no further than MitchCactus for your Forza Horizon 5 Modded Car Packs. Say goodbye to bland and basic and hello to unique and powerful with MitchCactus!
Furthermore, if you're looking to enhance your gaming experience even further, don't forget to check out our selection of Credit Boosts and Mod Packs for other popular games such as GTA V — available for PS4, PS5, and Xbox Series. Whether you're looking to add some extra flair to your Forza Horizon 5 game or take on new challenges in GTA, we've got you covered. Explore our site today!
FAQs
Are Forza Horizon 5 Modded Car Packs safe to use?
Yes, all of our Forza Horizon 5 Car Packs are 100% safe to use. We take great care in ensuring that our products are thoroughly tested.
What is the hardest car to get in Forza 5?
Hard-to-find cars in FH5 cars are called Epic or Legendary. Some of the models you can only see in the legendary tier are:
2554 AMG Transport Dynamics M12S Warthog CST

2018 Bugatti Chiron

1996 Ferrari F50 GT

1977 Ford #2 GT40 Mk II Le Mans

2019 Hennessey VelociRaptor 6×6

1956 Jaguar D-Type

2016 Lamborghini Centenario LP 770-4

And many others!
Are there hidden cars in Forza 5?
In Forza Horizon 5, there are 14 cars hidden in barns scattered across the Mexico map. These are called "Barn Find" cars.
How quickly will I receive my order?
We offer an instant service for all of our Modded Accounts. As soon as you make your purchase, you'll receive your account login details via email, so you can start playing immediately. Nevertheless, if you're purchasing one of our other packages, we offer 'Express Delivery,' which will get you your order within 12 hours.