Forza Horizon 5 is a fantastic racing game, offering an immersive open-world experience, stunning graphics, and a wide variety of vehicles to exploit and events to participate in. But at MitchCactus, we believe there's always room for improvement. That's why we've developed a selection of mods and customizations that take your Forza Horizon 5 experience to extreme heights.
Our Forza Horizon 5 mods are designed to add new levels of excitement and immersion to the game, giving you access to exclusive cars and a whole galaxy of new possibilities. With our Credit Boosts, you can unlock new features, upgrade your vehicles, and experience the game in a brand-new way without having to worry about endless grinding. Our Forza Horizon 5 Modded Accounts for Xbox, Steam & PC take it a step further, giving you access to all the features you need to fully customize your gameplay experience.
Our Premium Forza Horizon 5 Mod Services
MitchCactus Forza Horizon 5 premium modding services are the perfect way to take your racing experience to the next level. Whether you need a Forza Horizon 5 modded account for Xbox, PC or Steam, our offerings are tailored to provide endless possibilities. Our range of Forza Horizon 5 mod services include:
1. Premade Modded Accounts
Our Premade Forza Horizon 5 Modded Accounts include various pre-selected mod options, making it easy for you to start racing immediately.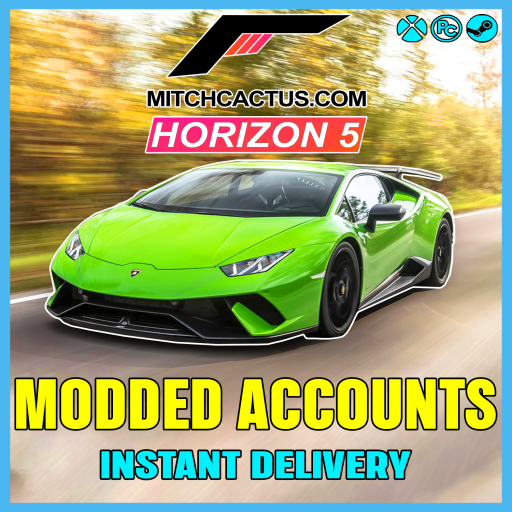 Do you want a separate Premade Account loaded with Hundreds of Millions of Credits & Spins, Rare Cars and more? Look no further!
Forza Horizon 5 Modded Accounts for Xbox, Windows & Steam
Easily able to be added as an Extra Xbox Profile / Steam account.
For those who want a more personalized experience, our Personal Forza Horizon 5 Mod is a tailored service for your existing account. As a result, you can get the most bang for your buck.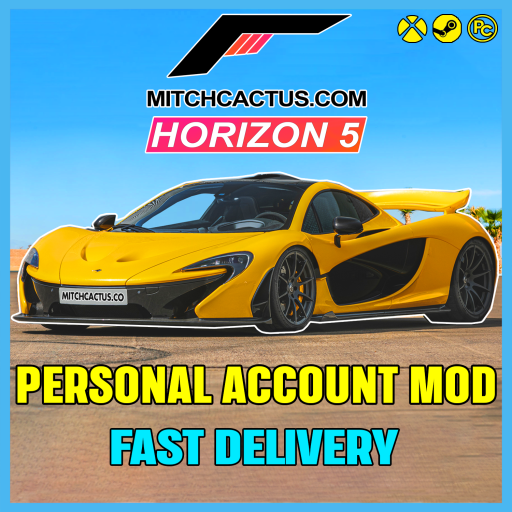 Would you like your own existing account to be Boosted with Credits, Spins, Rare Cars, Skillpoints & more? Our Forza Horizon 5 Personal Account Mod Pack is perfect for you!
Package for Xbox, Windows & Steam!
Lastly, we simply log onto your account and add the items of your choice
From $39.99 – Forza Horizon 5 is a fantastic racing game, but let's be honest — to truly experience all it has to offer, you need to have a lot of credits. And we mean a lot! Whether it's custom rims, performance mods, cosmetic upgrades, or cars. All of these features can only be unlocked with a boatload of credits. Without enough, you'll be stuck driving the same old cars and missing out on the whole FH5 experience.
Nevertheless, that's where we come in. At MitchCactus, we offer a credit-boosting service for Forza Horizon 5 that gives you the power to unlock the best of the game. Our credit boost packages range from 50 million to 999 million. As a result, you'll be able to spend more time doing the fun things in FH5 and less time completing boring events and auctioning low-cost cars.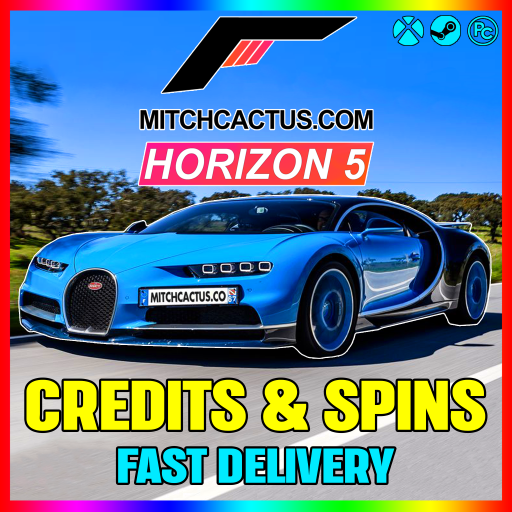 Just want a Forza Horizon 5 Credits and or Superwheelspins Boost to an account of your choice? Look no further!
Options of 50M-999M Credits & 10k-999M Superwheelspins.
Furthermore, compatible for Xbox, Windows & Steam!
Tired of driving the same boring vehicles in FH5? Want to experience some truly rare and exotic rides? Look no further than MitchCactus' rare car packages. We offer two options to help you unlock the full potential of Forza Horizon 5. Firstly, our rare car package and spins option gives you access to the rarest and most sought-after cars in the game.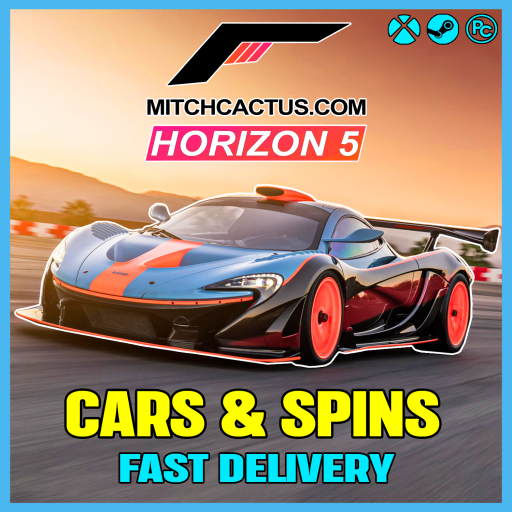 Just want Rare Cars? This package is perfect for you!
Furthermore, for Xbox, Windows & Steam!
5. Rare Cars Monthly Subscription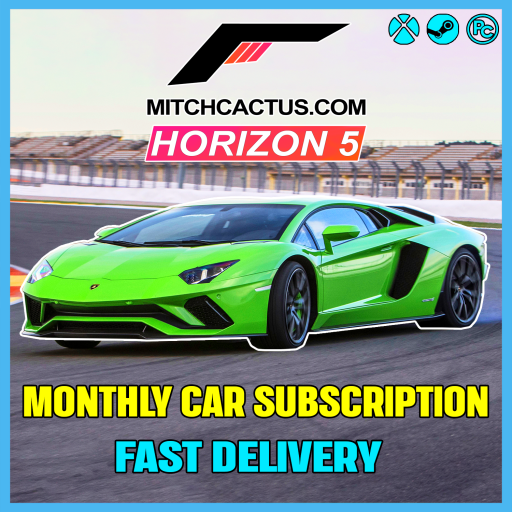 Do you already have one of our packs and want to keep getting your account topped up with the Newest & Rarest Car additions to Forza?
Our Forza Monthly Car Subscription is perfect for you! Every month, we'll autonomously log into an account of your choice and add all of the new cars from each new update.
Lastly, our monthly car subscription option keeps the action going, giving you access to a new rare car every month. As a result, you can keep your garage fresh and your opponents on their toes!
Why Choose MitchCactus for Forza Horizon 5 Mods
At MitchCactus, we take pride in our ability to provide the most exceptional quality of Modded Accounts to enhance your Forza Horizon 5 gameplay. We understand that every player has unique needs and preferences. Given this, we've made it our goal to offer various options to cater to everyone's gaming style. Furthermore, here are more reasons our customers love us:
We know you're eager to start racing and showing off your new cars, and we don't want anything to stand in your way. That's why we've made it our top priority to ensure that our delivery process is fast and efficient with our "Instant Delivery" option. This means that as soon as you make your purchase, you can have access to your Forza Horizon 5 Modded Account right away. No more waiting around for days or even weeks for your purchase to arrive!
We understand that purchasing Forza Horizon 5 Mods can be costly, so we want to ensure our services are accessible to everyone. Whether it's a limited-time offer or an ongoing promotion, we always strive to provide the most affordable prices on the market. Never overpay for Forza Horizon 5 Mods again. Trust MitchCactus to provide you with the most incredible deals on the market.
Our team of experts take great care in ensuring that all of our services are completely safe and undetectable. However, in the unlikely event that your account gets banned, we will replace your account free of charge.
MitchCactus guarantees that our services are 100% safe and secure. From the moment you make your purchase to the delivery of your Forza Horizon 5 Modded Account, we take great care to ensure that your personal information is kept confidential and your transactions are smooth and secure. We use state-of-the-art encryption technology to protect your sensitive data. Not to mention, our team is constantly monitoring our systems to ensure they're up-to-date.
We want our customers to be completely satisfied with our Forza Horizon 5 Mod Services, which is why we have an excellent refund policy in place. If for any reason we were unable to provide your mods, you can request a refund. Our team will review your request and process your refund as soon as possible.
With an average rating of 4.8 out of 5 stars across over 5,000 verified reviews on Trustpilot, we're proud to say that our customers trust us to provide them with the best Forza Horizon 5 Mod Services.
Our customers have praised us for our fast delivery, great customer service, and high-quality Forza Horizon 5 Modded Accounts. We work hard to ensure that every customer is satisfied with their purchase. We're dedicated to providing reliable assistance every time.
Unlock The Full Power of Forza Horizon 5 Mods From MitchCactus
Forza Horizon 5 is perhaps the best racing game today, with a breathtaking, open-world landscape and a plethora of cars and customizations to explore. If you want to grind tirelessly to unlock features, that's great! But if you want to experience new heights in the game right away, our Forza Horizon 5 Mods are the way to go.
Unleash the true potential of Forza Horizon 5 with MitchCactus by your side. Check out our packages today and get started on your ultimate racing journey! Finally, don't hesitate to contact us if you have any queries.